Anti Bullying
Each class designed their own anti bullying policy, which are displayed in the classrooms. Everyone also made an Anti Bullying Pledge - a couple can be seen below. Videos of all the pledges can be seen on individual class pages.
Please click on our link for your guide to Anti-Bullying - Anti-Bullying - A Guide For Parents
Our Official Anti Bullying Policy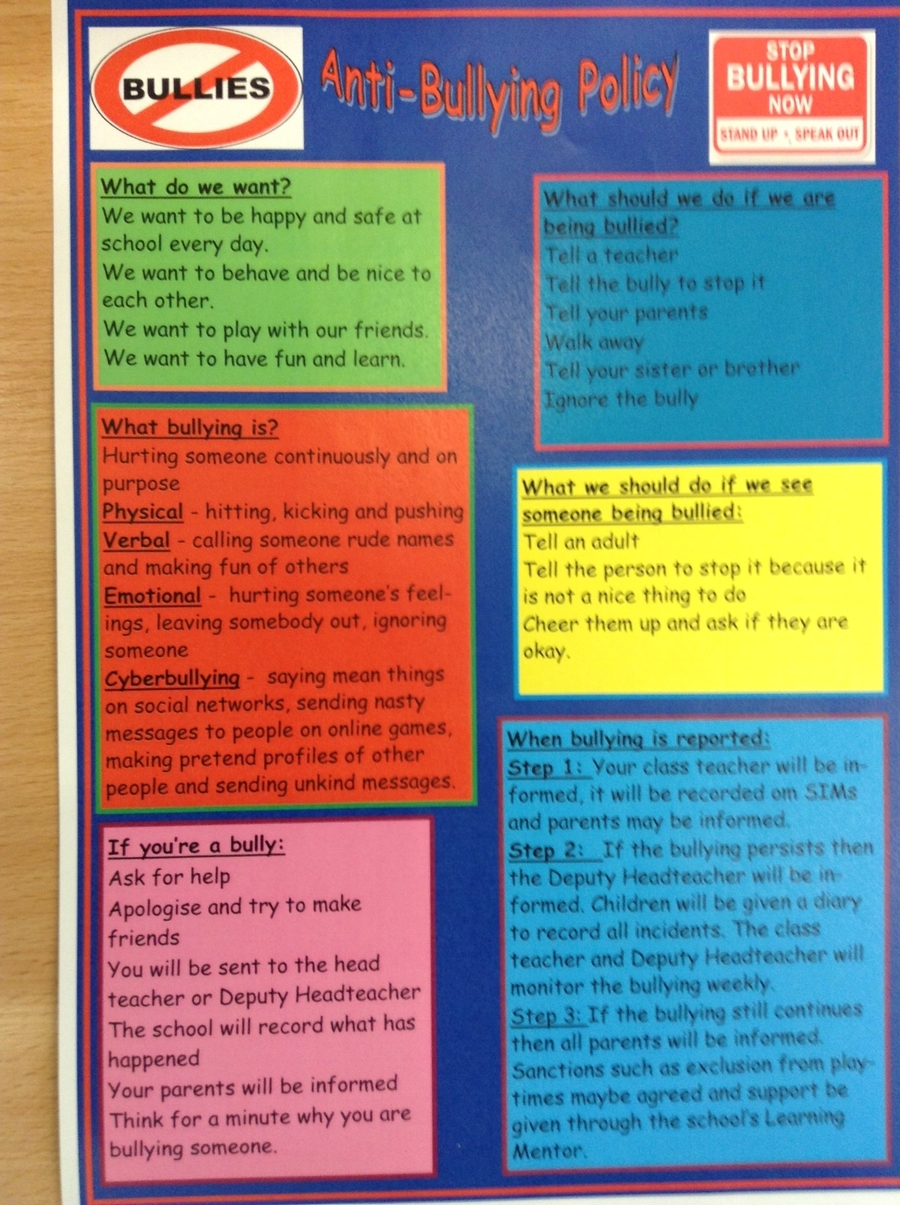 What Children Should Do
Walk away from a bullying incident.

Ask for the bullying behaviour to stop.

Report an incident of bullying to any trusted adult or through the use of the classroom worry box.

Have an expectation that something will be done about it.

Feel that they are listened to and believed.

Feel safe and included.
Our Strategy for Dealing with Bullying
Step 1 - When a child reports an incident of bullying behaviour it will then be passed to that child's class teacher to deal with. The class teacher will record details of the bullying behaviour on SIMMS. If a child has used prejudice, offensive or inappropriate language their parents will be informed. Staff will question children involved and speak to any witnesses. The child who is being bullied will be given support if needed.
Step 2 - If the incident of bullying has happened more than once, by the same child or has been aimed at the same child, then this will be reported to the Deputy Headteacher. The Deputy Headteacher and the class teacher will speak with all children involved. The class teacher will keep a record of all incidents and the child being bullied will be given a diary to record incidents. The Deputy Headteacher and class teacher will check on a weekly basis to see if the bullying behaviour has improved. The children will be told if the behaviour has not improved then their parents will be informed.
Step 3 - If the incidents of bullying continue then both parents will be informed, and incidents will continue to be logged. Analysis of the incidents of bullying will help determine appropriate sanctions and support which is needed. For example if bullying behaviour takes place during break times then the child bullying will be excluded from break times. If any child involved needs nurture or relationship support then this will be put in place either through staff in school or outside agencies. Regular communication with children and parents involved will continue, plus the Headteacher will be informed of all incidents and communications.