Investors in Pupils Award
The school currently holds the Investors In Pupils Award and the staff and pupils have been working towards revalidation of this very worthwhile award.
The award helps pupils to identify their own personal targets related to learning, behaviour, classroom management, attendance and induction. Teachers and pupils also work together to set whole class targets. As part of the award children learn about the roles of all the staff in the school and every class has participated in very successful and entertaining assemblies informing everybody about all of the many jobs that we have in our school.
Investors In Pupils gives the children in the school opportunities to be involved in the recruitment of staff, school improvement and school budgetting. As a result, elections have been held in every class, and Investors In Pupils Representatives have been appointed, to give all children a forum to contribute in the daily running of the school and also help in our work to become a sustainable school. Investors In Pupils Representatives and The School Council will work together closely in both these areas. See below for all of the exciting things we have been doing as a result of Investors in Pupils.
Play Leaders!
Our play leaders from year 5 and 6 work hard every break and lunchtime to provide a fun and stimulating play experience for all children outside. The play leaders take it in turns to set up different 'zones' in the playground using different apparatus. They support all children, making this a fun experience for all!
Oliver B - " I enjoy setting up the different activities, making sure they are organised and have different things for everybody to do something at break and lunch times."
The children enjoyed an assembly where we listened to some of our non-teaching staff talking about their roles in school and how they impact on the children's learning and day-to-day life in school! The children found it enjoyable and very interesting!
Our Pupil representatives took part in a PUPIL VOICE day at Leeds Trinity University!
Our pupil representatives organise our Christmas CD recording day! We had a competition which every child in school entered, to design the CD cover and our pupil reps judged the competition! We raised money for charity and our pupils decided how to best spend this money to support people in other countries who are not as fortunate as ourselves through the CAFOD world gifts campaign.
Our £20 Challenge!
Every class in school is given a £20 challenge, whereby they are given a list of how much stationary costs in school per item. Every time a pencil may get broken or a glue stick dries out, that particular class will have it taken out from their £20 budget. Our council representatives track each class weekly and update our board in the library. The children have the chance to appreciate how much stationary actually costs our school and learn the value of the cost of things.
New Playground!
What an exciting time our school council children ad when designing our fabulous new playground! Our school council children from every year group had the chance to have their say about the new equipment in our playgrounds. They were able to consult design plans and choose their equipment.
Our new Lunchtime Staff...
Investors in Pupils Targets
Every child in school has their own Investors in Pupils target which they are working towards.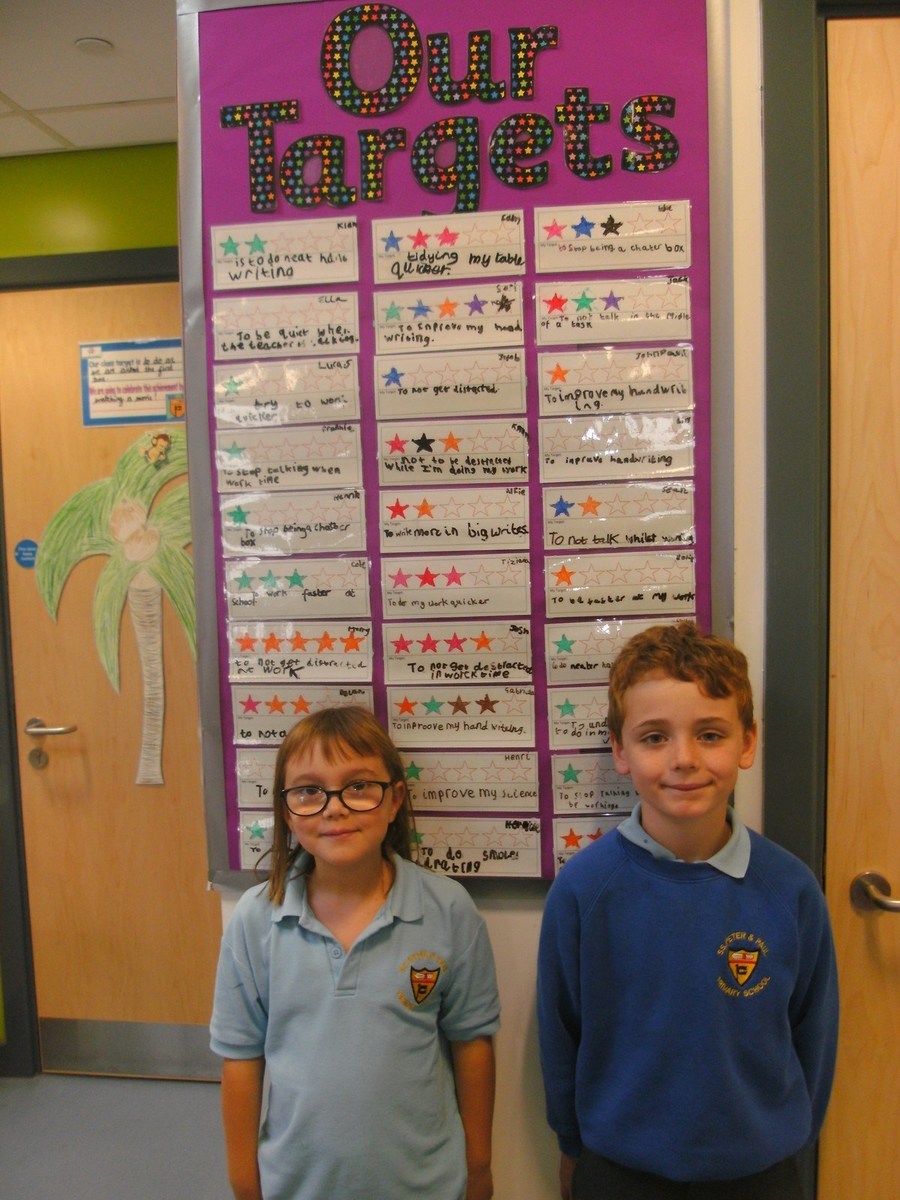 Our children feel very proud when they achieve their targets. They enjoy challenging themselves by setting new targets!