Religious Education and Our Parish
Our Parish Church is Ss. Peter and Paul. Our Parish Priest is Fr John Carlisle.
The Church and School work together to provide all of our children an education where Christ is at the centre of everything we do. We regularly attend Mass either at school or in Church and all children are used to preparing our daily collective worship.
Please scroll down to find out about our latest events.
Please click on picture of Church to access our Parish website.
Mrs Filarowski composed a beautiful Mission Together hymn for the Extraordinary Month of Mission. The official Mission Together charity have said they may even adopt it as their official Mission Hymn! We are so very proud of Mrs Filarowski. Please click here to read all about it!
The children are enjoying their Bible studies!
We celebrated our Harvest Mass together thanking God for the many gifts which we are now able to share with the less fortunate in our community
Harvest Time
Children are enjoying the opportunites we have to celebrate Mass in their classroom with parents/carers also taking part!
Year 5 Mass in the Classroom
Year 3 & 5 Advent Service - Friday 16th December
Year 3 Renewal of Baptismal Promises Liturgy - Tuesday 11th October
Year 3 and 4 enjoyed a very spiritual pilgrimage to Byland Abbey during this Holy Year of Mercy!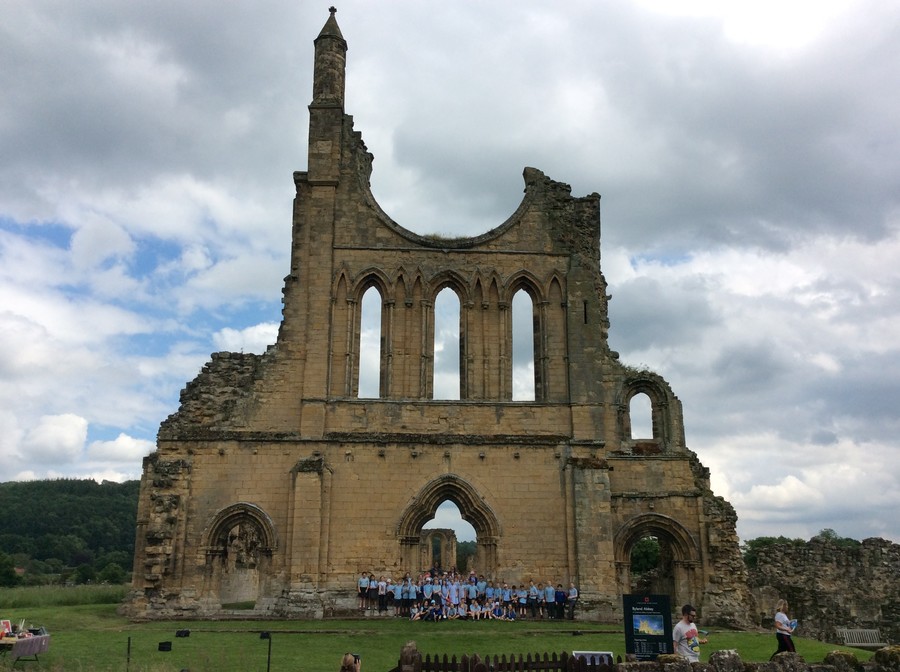 Year 3 have enjoyed sharing their First Holy Communion with one another and the rest of the school!
Congratulations to our Year 3 children who made their very special First Holy Communion this weekend (11th/12th June)
During this Year of Mercy, the children have been learning about the Corporal Works of Mercy. Each class have produced a piece of art work based on these works of mercy which will form part of a national exhibition organised by the Sisters of Mercy!
During the month of May some members of staff and families have met in Church before the start of the school day to pray the Rosary!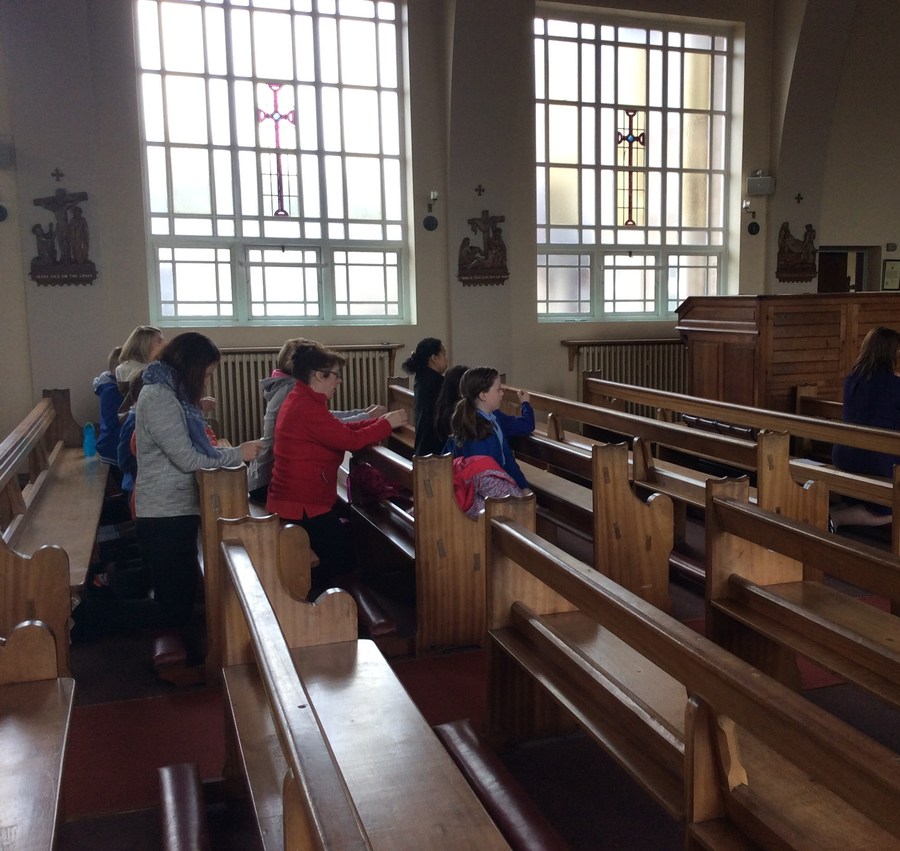 Well done to our children who represented our school so well when they presented the Bishop with money raised during our Lent Good Shepherd Appeal!
KS2 enjoyed taking part in our May procession, saying the Glorious mysteries of the Rosary together and singing some hymns!
The blessing of our new Ss Peter & Paul Window!
Year 3 enjoyed sharing the story of Holy Week with the rest of the school
Well done to our children for organising 'Games Week' and raising money for Catholic Care in the process!
Congratulations to all of Key Stage 2 for leading our school in a very prayerful Carol Service.
Well done to everyone involved!
Our Worship during Advent has prepared us well for the coming of Jesus at Christmas!
Our Year 3 Sacramental Preparation Programme had now begun!
Our Mini Vinnies have performed for some of the elderly of the parish at their Fish & Chip Lunch.
They were amazing and really put a smile on everyone's faces!
MiniVinnies entertain older people of the parish
Year 3 enjoyed a very special Liturgy with their families where they renewed their Baptismal Promises!
Congratulations to our Mini Vinnies who were commissioned in assembly on Tuesday (29th September)
Listen to our children play and sing our new school hymn: 'Here we are Lord'
We have celebrated our end of year Mass (Thursday 16th July)
and are saying a special 'goodbye' and 'good luck' to all in Year 6!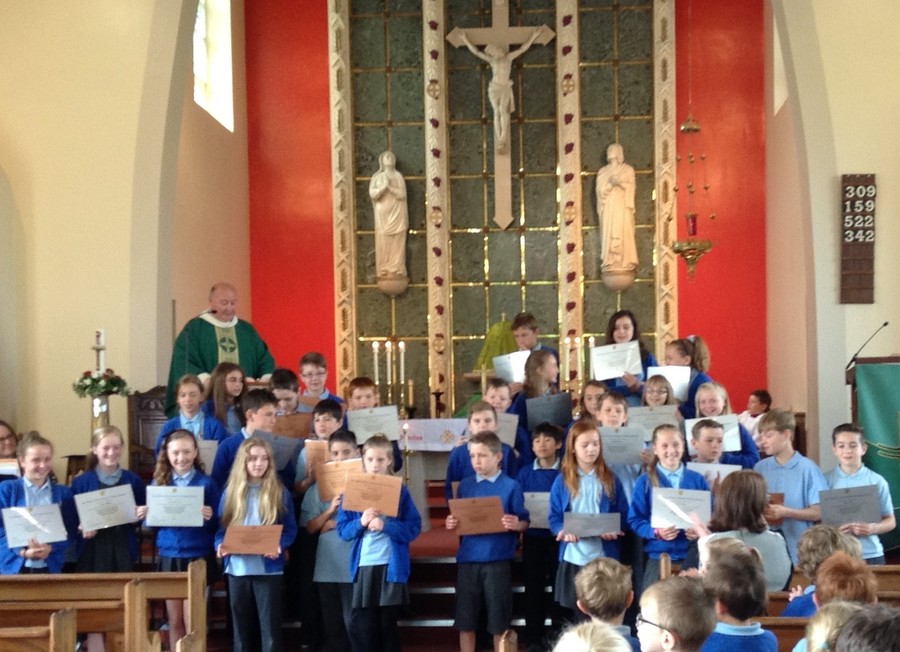 Present and past staff, governors, pupils and parents all gathered together for the Celebration of Mass to mark the 50th anniversary of Ss Peter & Paul's School!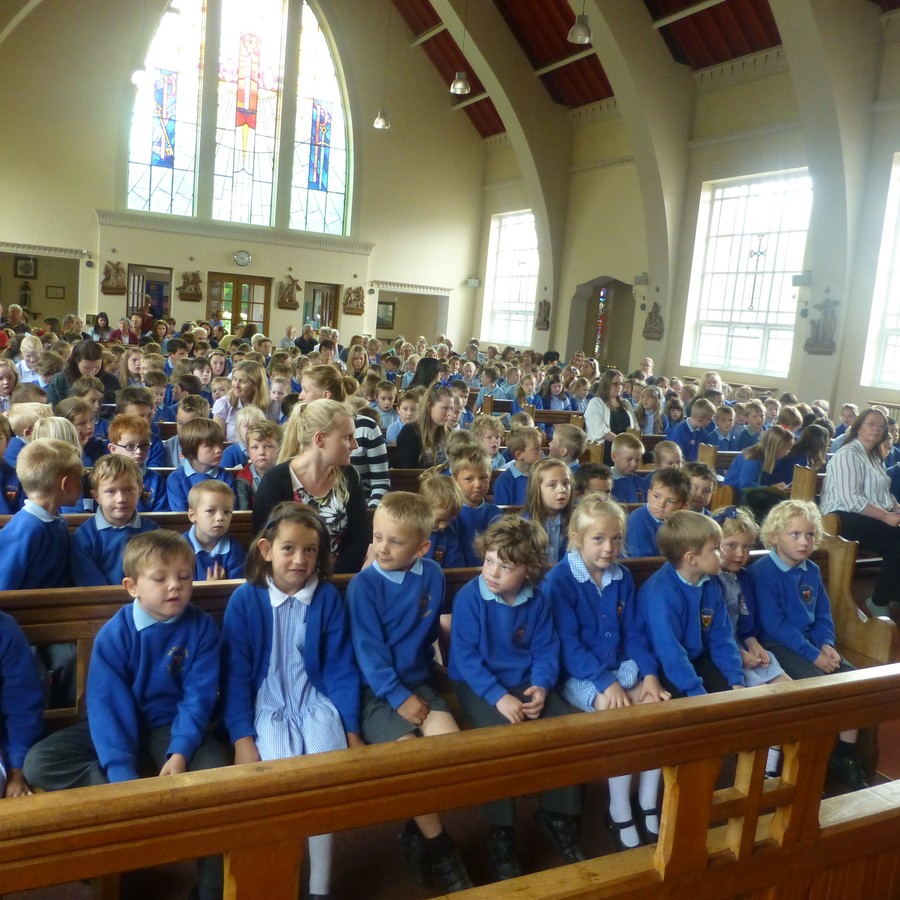 Monsignor Paul Grogan joined us for the celebration of Mass. He then had lots of fun in Year 4 answering the children's questions. Monsignor Grogan attend our school as a child and his Father was the first ever headteaher of Ss Peter & Paul School!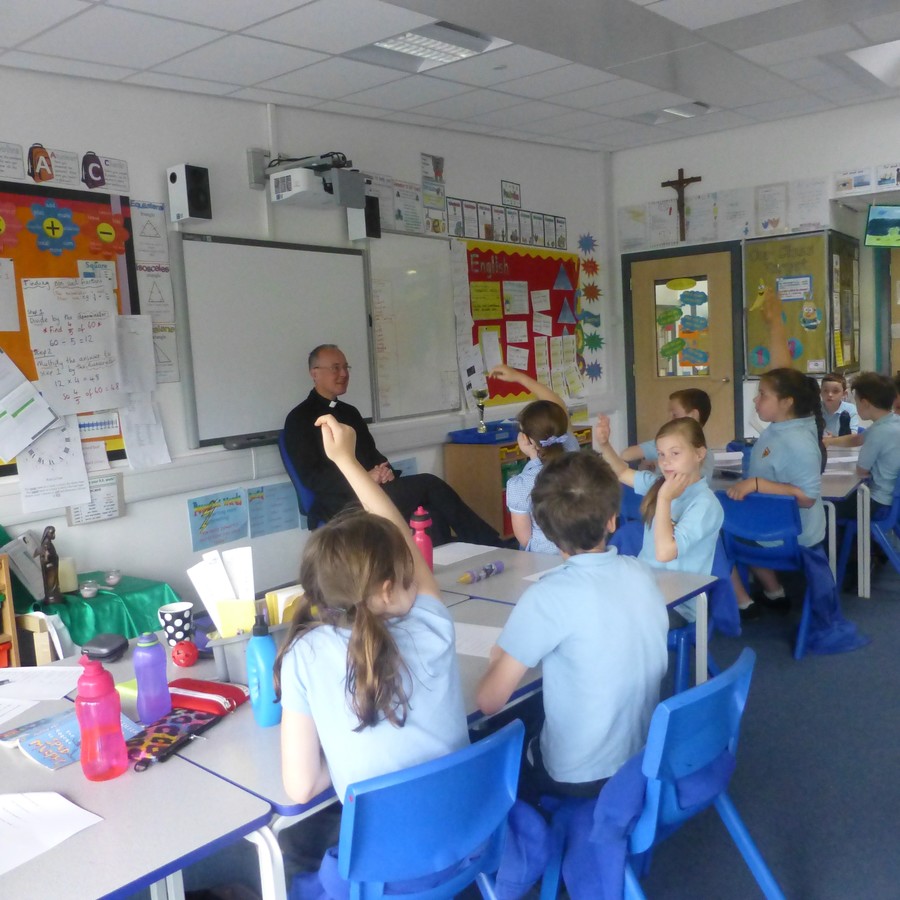 The children enjoy an ice-cream - celebrating 50 years of Ss Peter & Paul School!
We all had an ice lolly for our Feast Day
Pervious and current members of staff, governors and parents gather for tea and coffee to celebrate 50 years of Ss Peter & Paul!
The children are enjoying using our School Prayer Garden!
FIRST HOLY COMMUNION 2015
Congratulations to Year 3 who made their First Holy Communion on Saturday 6th and Sunday 7th June 2015!
The launch of our new Mission Statement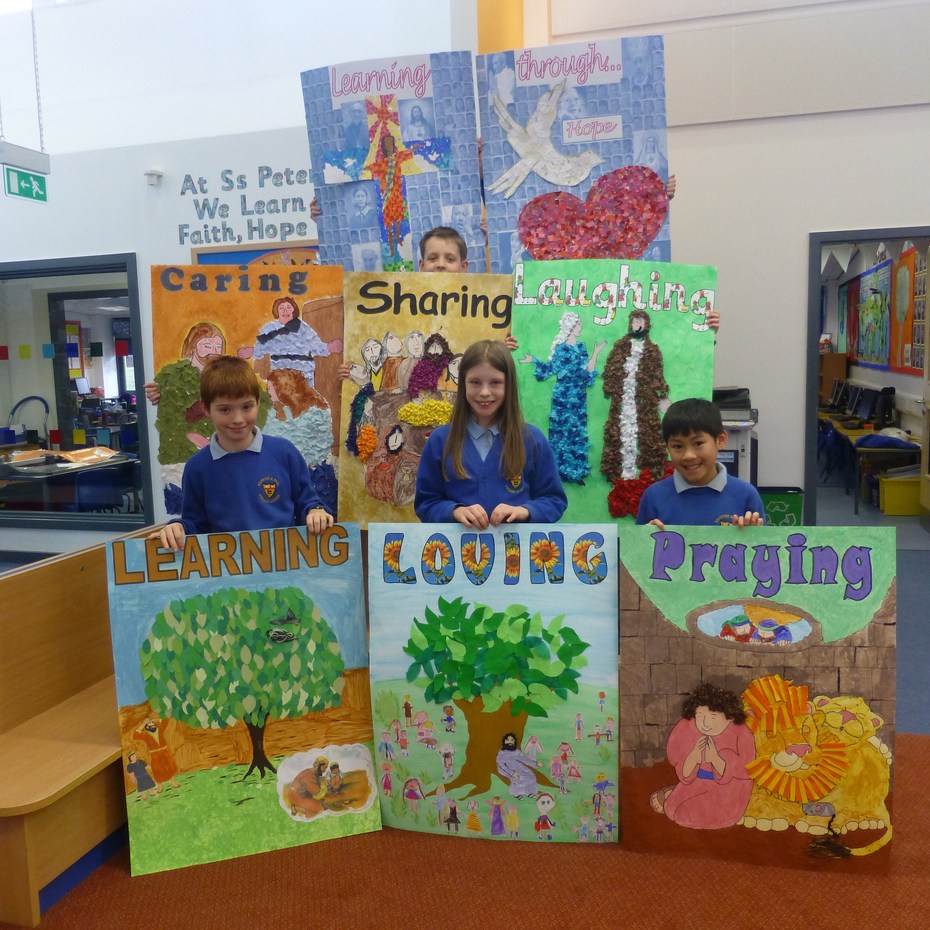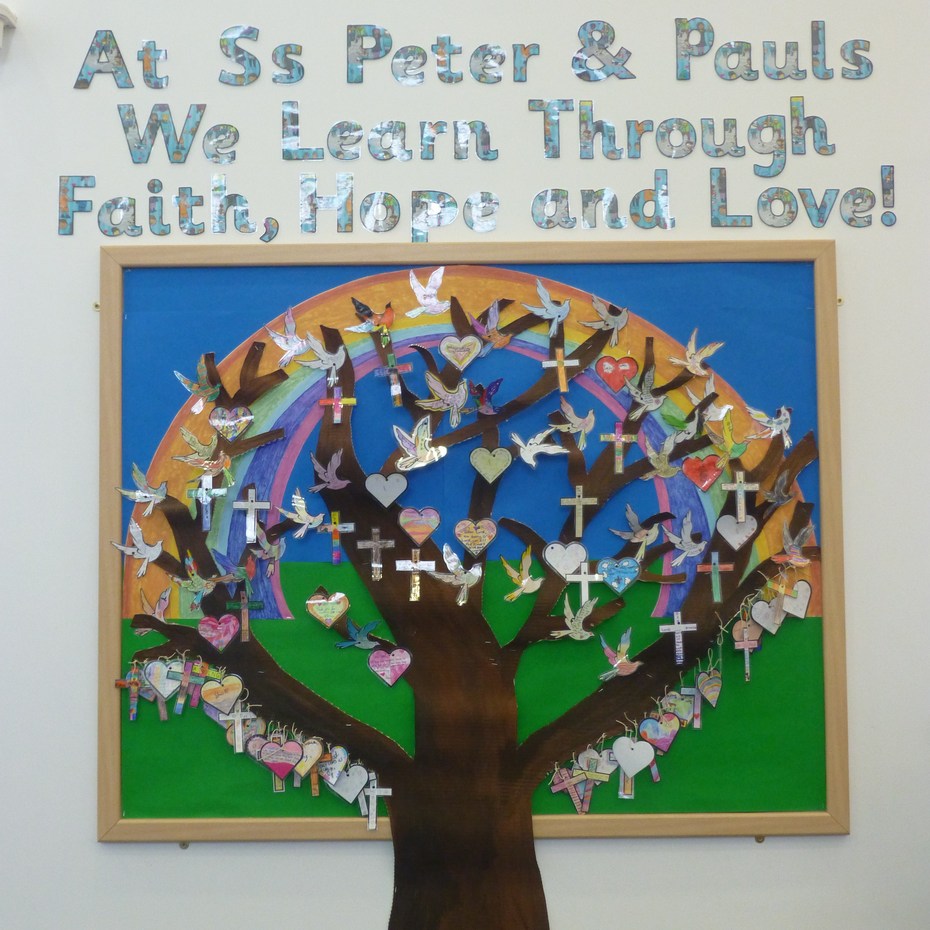 Click on the News and Events tab to see more pictures.
The Blessing and Opening of our School Prayer Garden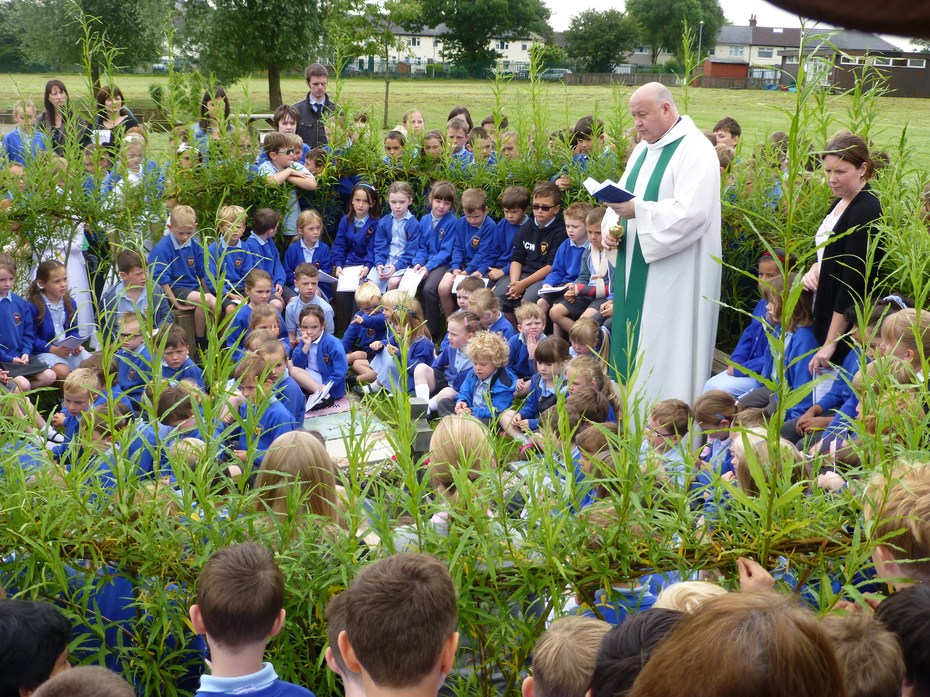 HOLY COMMUNION 2014 - Congratulations to all of our Year 3 children who made their Holy Communion.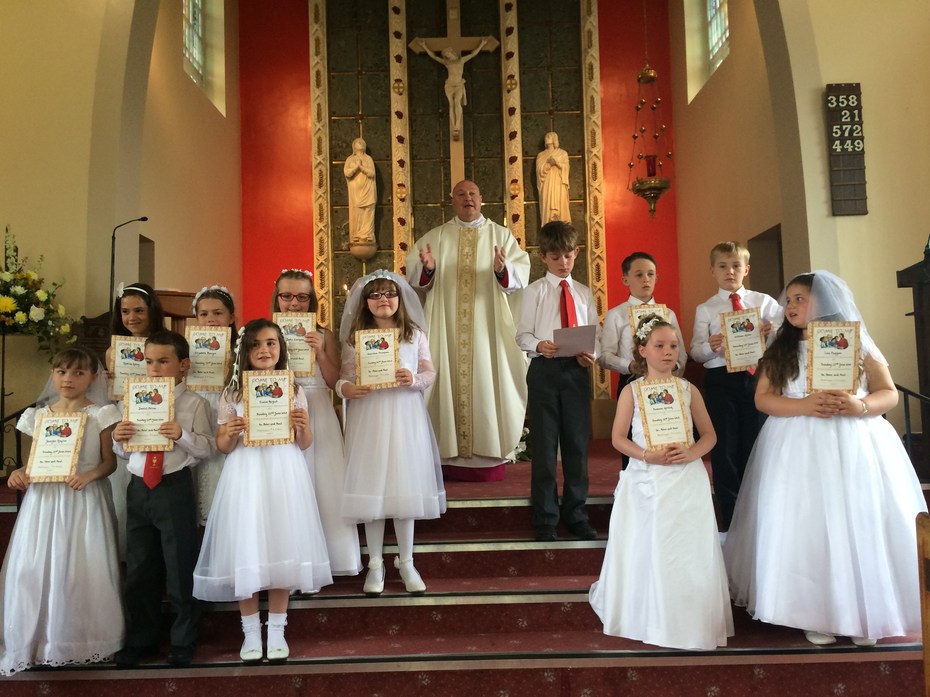 Our School Ethos Statement
All of the children, staff, parents and Governors are working together so that we can have a new school ethos statement.
xt

Area

Miracles and Parables Themed Week
Lent Themed Barnabas Day