Mini-Vinnies
Ss Peter & Paul Catholic Primary School is a Mini-Vinnie school!
Mini-Vinnie groups are set up in Catholic primary schools, and carry out good deeds in helping the needy within school, the local community and the wider world.
The group is part of the Society of St Vincent de Paul. The St Vincent de Paul Society (SVP) is an international Christian voluntary organisation dedicated to tackling poverty and disadvantage by providing practical assistance to those in need. 'Mini Vinnies' are children in Years 5 and 6 who are encouraged to embark on their first steps as possible 'Vincentians for life'.
The Mini-Vinnie mission is to:
Turn concern into action!
Mini Vinnies follow the pattern of see-think-do. They see who needs help in the world, think about how they can help and then do something about it.

Children apply to be members of Mini Vinnies when they are in Year 6 through an application form and formal interview. If successful, they are then appointed as Mini Vinnies for the rest of their time at Ss Peter & Paul School.

These are some examples of the work that the Mini Vinnies do:
Organise the 'Friday Foodbank' initiative - this is where each class takes it in turn to try and fill the school foodbank box (during the last Friday of each month) - the Mini-Vinnies then judge whether the box is full and if it is the class receive a certificate and a 10 minutes extra playtime voucher;

Sell Christmas baubles to children in school during Advent - they sit with children to colour in the bauble which is then hung on our school Christmas tree;

Organise events to support the school in raising money for charity, especially during Advent (CAFOD) and Lent (Good Shepherd Appeal);

Decide what happens with money raised during Advent - they look together at the CAFOD world gifts catalogue and choose the gifts to be bought on behalf of the school community;

Write letters to the housebound of the parish so that they feel less lonely;

Organise 'Rosary in the Prayer Garden' during the months of October and May - giving up their playtime to pray with other children and

Support staff in school when organising liturgical celebrations, e.g. the May Procession and the school feast day Open-Air Mass.
Meet our 2021-2022 Mini-Vinnies:
Our Mini-Vinnies were blessed by Fr David as they embark on their very special roles!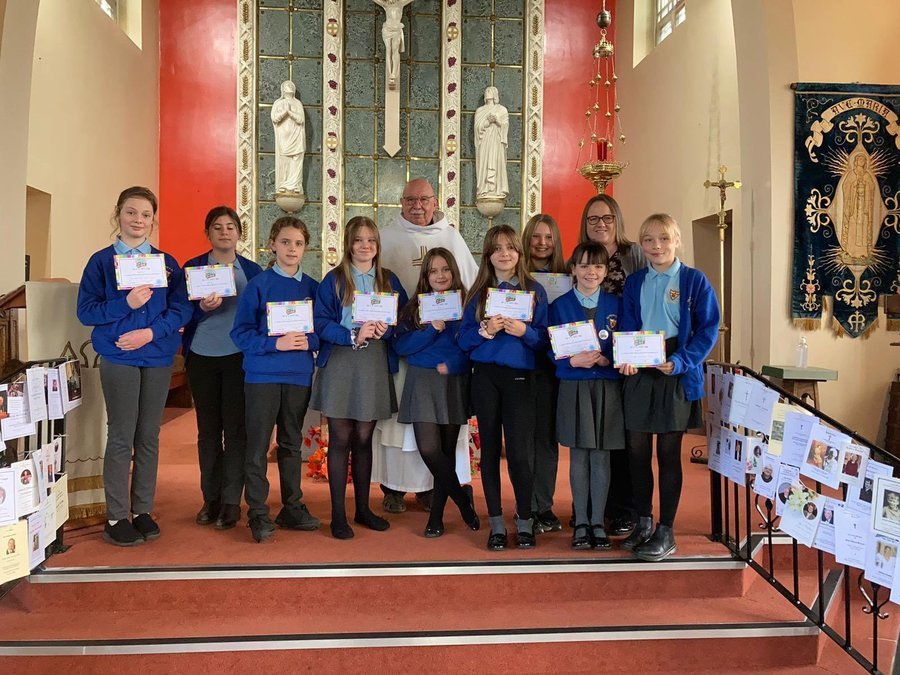 Follow the link below to watch our Mini-Vinnie's video promoting the 'Foodbank Friday' initiative:
Take a look at our Mini-Vinnie 'Foodbank Friday' PowerPoint:
Take a look at some of our Mini-Vinnie news: